Frequently Asked Questions
HOW DO I DOWNLOAD THE BackTrack HUNTTRACK APPLICATION?
HOW DO I UPLOAD TRACKS TO THE HUNTTRACK APPLICATION?
ABOUT THE BackTrack HUNTTRACK and WHERE TO BUY IT
WHERE CAN THE BackTrack HUNTTRACK BE USED?
BATTERIES
MEMORY
SATELLITE SIGNAL/GPS SYSTEM/COMPASS
USING THE HUNTTRACK SOFTWARE APPLICATION
ADDITIONAL HELP/PRODUCT REGISTRATION
1. Backtrack HUNTTRACK requires Adobe Air®. If you do not already have Adobe Air®, you can download it directly from Adobe.
2. After you have installed Adobe Air® download and install the Backtrack HUNTTRACK application below.
3. Need additional download support? Please email support@registria.com
Please see the image below to guide you if the Windows Autoplay prompt is displayed when you are uploading HUNTTRACK tracks on your Windows PC.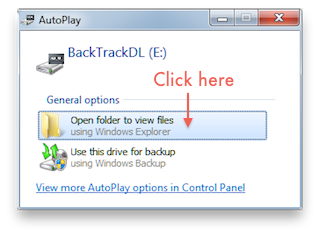 Click on the .btk (Backtrack) file to load your tracks.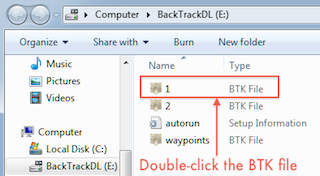 Please see the image below to guide you through uploading your HUNTTRACK tracks on your Mac. Once you connect your BackTrack HUNTTRACK to your Mac using a USB cable, the device is displayed on your Mac desktop: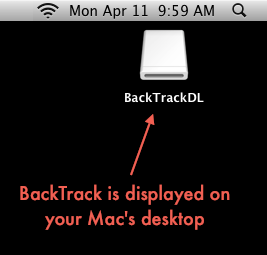 Navigate to Applications folder and double-click on the BackTrack HUNTTRACK application icon.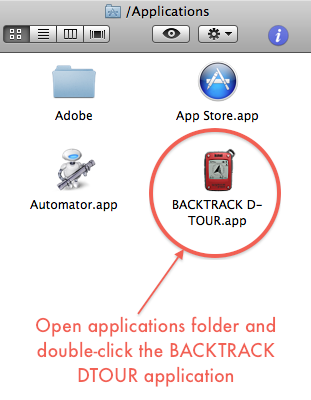 The BackTrack HUNTTRACK uses a blend of new technologies with GPS technology. Using military GPS satellites, the HUNTTRACK re-calculates your position every two seconds, telling you how far you've traveled from your original destination. Activate the trip logging function and it will record your trip route. After your trip is over, you can use the free HUNTTRACK software application to view, analyze and share the data collected during your trips.
IN THE USA AND CANADA:
The BackTrack HUNTTRACK is available now for purchase at many specialty and consumer stores, online dealers and select retailers in the U.S. You can order also one now at http://bushnell.com.
No. GPS requires a clear view of the sky in order to obtain satellite lock. Large buildings and metallic surfaces could potentially affect satellite lock and more difficult to accurately determine location.
Yes, the BackTrack HUNTTRACK can be used worldwide.
Trip data can only be recorded when the HuntTrack is on the logging data screen (Screen includes speed and average speed with bar graph). Once recording has begun and the running man is displayed in the top right corner, you may proceed to other screens
The HUNTTRACK uses three AAA alkaline or lithium batteries (non-rechargeable Lithium batteries are recommended for cold temperatures or for extended use.)
The HUNTTRACK has an easy to remove battery door that gives access to the battery compartment. To remove the battery door, turn the coin screw from lock to unlock and pull on the lower back half.
Battery life will depend on use. The estimated battery life for a constant running unit is 16-20 hours.
The battery meter will begin flashing with a diagonal line through it notifying you that the batteries need to be replaced. You will only have a short amount of time after the blinking starts before the batteries are exhausted.
No. Your trip data and settings are retained while you change batteries.
The HUNTTRACK will hold up to 48 total hours of logging, regardless of the number of trips taken.
The memory indicator bar will show no more units of memory remaining. You will also not see the walking man in the upper right of the screen if you attempt to turn logging on.
When logging is complete, simply plug the HUNTTRACK unit into your computer. Create your online based account and upload your trips. Once uploaded, the software will erase the unit's memory.
Since the HUNTTRACK is a GPS device, it must lock onto the signal from several satellites in order to obtain an accurate location. The blinking icon lets you know that it has not yet obtained a full lock. Satellite acquisition takes approximately 15-60 seconds in an area with a clear view of the sky. You will not be able to get adequate GPS lock in a building or under a heavy cover.
It is not unusual for the initial lock to take over a minute when using the HUNTTRACK for the first time, or in a new location. Make sure you are in an open area, away from tall buildings, trees, and large metal structures. If you still don't have a satellite lock after several minutes, try turning the unit off then on again.
GPS systems are designed with some intentional variability in the signal available for our use for national security reasons. This can result in the position data calculated by any commercial GPS to appear to wander. Over time this variability averages out to where you actually are.
It may be necessary to periodically recalibrate the compass to ensure maximum accuracy. With the HUNTTRACK powered on outdoors, wait for a GPS lock (satellite icon stops blinking), then hold the HUNTTRACK out in front of you and move it in a "figure 8" pattern a few times. You may also use various other compass calibration techniques, as shown at:

IN THE USA AND CANADA:
http://www.bushnell.com/products/gps/instruction-videos/

IN EUROPE:
http://www.bushnelloutdoorproducts.eu/www_bushnell/eu/video/
Close the HUNTTRACK software application, and then re-open it. Your trips should appear in order by date.
Yes. You don't need to create a new account or register a second time-simply log on to your account (http://hunttrackgps.com)
You don't have to remember to do anything, as your trip data is automatically saved in your account in the "cloud". There's no need to logout, just close the application when you finish using the HUNTTRACK software.
Yes. Please click on the "How it works tab" to view video instructions. http://backtrackgps.com/how-it-works
Please visit http://www.hunttrackgps.com to register your BackTrack HUNTTRACK.
Just click the "Forgot Password?" link on the log in screen and enter your email address (user name). You may also change your password at any time, after logging in to your existing account at http://hunttrackgps.com. Click "My Profile" in the menu at the top of the screen.